← Back
Add-On Flex Dollars $25.00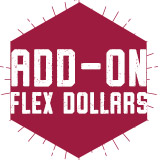 Add the amount you need to your Meal Plan!
Must first have a Meal Plan to add!
Use at any of our dining locations!
Flex Dollars can be used at any MSU Dining location across campus 7 days a week.
Note: You must first have a Meal Plan in order to add additional Flex Dollars. If you would like only Flex Dollars, and no Block Meals on your Meal Plan, check out our Flex Meal Plan!